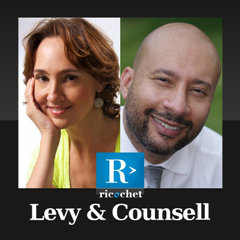 After a summer break, another episode of International Edition with Levy and Counsell is up at Ricochet.com. [iTunes link to follow.]
Here's the Ricochet blurb:
TV news shows often only turn up in distant countries when the shooting starts. This approach can scare off, or simply puzzle, intelligent and curious viewers who would prefer more backstory and less bullet-dodging. International Edition is back and Judith Levy and Damian Counsell begin this new season hoping to help intelligent and curious Ricochet listeners with this very problem.

This week's edition the first of a series of Q&A format shows, where we hope to share our answers to your questions—and to use them as a starting point for wider discussion.The first is about the much misunderstood state of Israel and its place in the Middle East, with explanations direct from a real live Israeli who has studied the country and its relations with its neighbours from an academic, a political, and a personal perspective. She also knows a lot about the food.
In this podcast, Judith answers readers' questions about the land of Iz. Sorry about the dodgy mix. By way of compensation, this episode opens with this classic exchange:
JUDITH: "It's great to talk to you."
ME: "It certainly is."
That's because I'm AWESOME.